Young People try Gliding
As a recently accredited "Junior Gliding Centre", Devon and Somerset Gliding Club (DSGC) has just run two more short courses especially for local young people.
Teign School and 3rd Exeter Air Scouts are the latest groups to benefit from DSGC's initiative to open their facilities to young people. Both groups enjoyed their first flights in a glider and saw at first hand how a gliding club operates.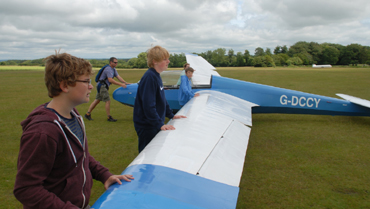 Steve Callendine, Teign School says "As part of our aviation activity week, the gliding was difficult to match - it was definitely our high point."

Andy Cremin, 3rd Exeter Air Scouts says "Despite the late start due to the weather, we all had a great time and the Scouts are still 'buzzing' from the experience."
Scout groups from Colyton, Axminster and Ipplepen have also enjoyed the normal group evenings during the summer.
DSGC  actively encourages young people to take up the sport of gliding by providing discounted membership rates. There are also a number of national organisations who assist our young pilots by providing bursaries and scholarships.
One of DSGC's Junior members, Liam, who went solo on his 16th birthday last year, has successfully completed his British Gliding Association Cross-country endorsement just days before his 17th birthday, making him a fully qualified glider pilot and allowing him to head off cross-country in a glider (as soon as weather permits!)
Pete Harmer,  Chief Flying Instructor  says  " We hope that more young people will join the Club as gliding provides an active, confidence-building  sport, that is one of the most economical ways to learn to fly."
We offer trial lessons so that young people can experience the thrill of silent flight. Trial lessons can be booked on any club flying day Wednesday, Thursday, Weekends and Public Holidays.  During the summer, we also run organised group evenings, and we offer a discounted rate for young people.
Devon and Somerset Gliding Club is a British Gliding Association accredited Junior Gliding Centre.
For more information on Junior Gliding and contact details for Devon and Somerset Gliding Club,  please visit our website www.dsgc.co.uk.