The Ken Andrews Trophy is awarded annually for the best flight in a glider with handicap of 90 or less from North Hill.
Tribute to Ken Andrews, S&G
"It is with great sadness I report the death of Ken Andrews on April 16 1989
Ken's introduction to gliding was unusual. Commissioned in the Army, he learned to fly on Tiger Moths, Magisters and Stearman PTs. He then moved to the Glider Regiment flying Horsas, Hotspurs and Hadrians. He landed safely at Arnhem with a small platoon which included Lt Gen "Boy" Browning and such was the calibre of Ken's leadership that his group was one of the few who escaped from what he modestly described as a "rather silly caper". Retiring after the war as a Lt Col and awarded the MBE, he moved to Devon and joined the club in 1975.
Ken was one of that rare breed of men - quiet, unassuming, unflappable, yet with an infectious personality, a wonderful sense of humour and, above all, a remarkable ability to endear himself to all. Many visitors will remember him as the calm, efficient director of Competition Enterprise."
In 2019, it was awarded to Pete Bennett in DG1, who flew 214Kms NHL - Okehampton - Taunton - Lapford - NHL on 2 July 2019 gaining 1066points on the ladder. .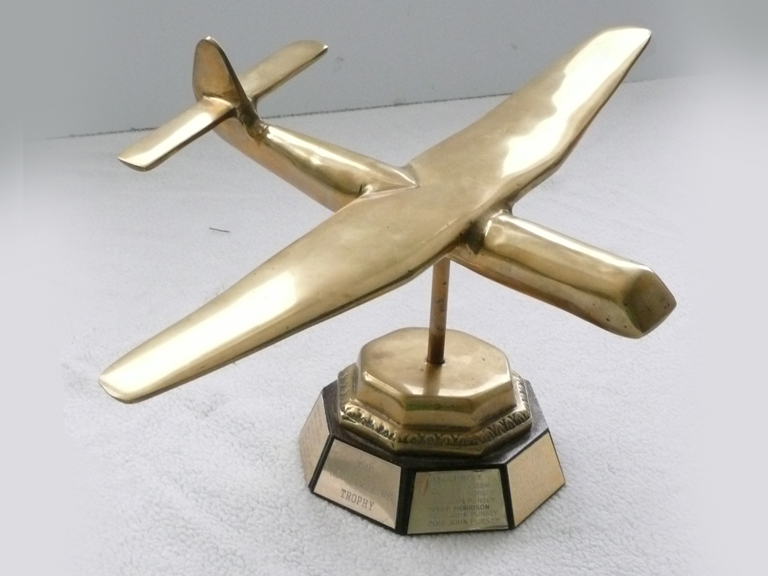 | | |
| --- | --- |
| Year | Awarded to: |
| 2019 | Pete Bennett |
| 2018 | Tom Sides |
| 2017 | John Burrow and John Pursey |
| 2016 | Peter Bennett |
| 2015 | John Pursey and Nick Jones |
| 2014 | John Pursey |
| 2013 | Liam Vile |
| 2012 | Nick Harrison |
| 2011 | Andrew Logan |
| 2010 | Nick Harrison |
| 2009 | Henry Ford |
| 2008 | Paul Little |
| 2007 | Richard Barden |
| 2006 | |
| 2005 | John Pursey |
| 2004 | John Pursey |
| 2003 | Gill Meakin |
| 2002 | John Pursey |
| 2001 | John Pursey |
| 2000 | John Pursey |
| 1999 | Phil Morrison |
| 1998 | John Pursey |
| 1997 | John Pursey |
| 1996 | Phil Morrison |
| 1995 | John Pursey |
| 1994 | Ian Mitchel |
| 1993 | Ian Beckett |
| 1992 | Damian le Roux |
| 1991 | Ian Mitchell |
| 1990 | Rex Grayling |
| 1989 | Malcolm Chant |
| 1988 | |
| 1987 | |
| 1986 | |
| 1985 | |
| 1984 | |
| 1983 | |
| 1982 | |
| 1981 | |
| 1980 | |
| 1979 | |
| 1978 | |
| 1977 | |
| 1976 | |
| 1975 | |
| 1974 | |
| 1973 | |
| 1972 | |
| 1971 | |
| 1970 | |
| 1969 | |
| 1968 | |
| 1967 | |
| 1966 | |
| 1965 | |
| 1964 | |
| 1963 | |
| 1962 | |
| 1961 | |
| 1960 | |
| 1959 | |
| 1958 | |