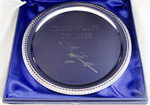 The trophy was presented to the Club in memory of Dick Wolff, to be awarded to someone who enjoys flying but also contributes to the club with ground ops such as winching, driving the tractor, helping out on courses etc- in essence all those things that help keep the club in operation on a voluntary basis.
DSGC members are invited to nominate members for the award on-line.

In 2019, it was awarded to Team Hender, in second place was Peter Smith and third place were Alan Turner.
There were a total of 38 nominations for 15 different members.
Some of the reasons quoted were:
"What an outstanding contribution to the club over the last couple of years. Bringing a whole new level of enthusiasm and motivation to flying (and other) activities. Just brilliant."
"....has become an integral part of DSGC - contributes fully on flying days, often making the difference in terms of member numbers enabling flying to take place. Gets 'stuck in' behind the scenes on non flying days"
"....contributing with work on and off the field, managing to secure some funding for bits for DRE."
| | |
| --- | --- |
| Year | Awarded to: |
| 2019 | Team Hender |
| 2018 | Jill Harmer |
| 2017 | Jill Harmer |
| 2016 | Aston Key and Paul Kane |
| 2015 | Pete Startup and William Pope |
| 2014 | Adrian Phillips |
| 2013 | Les Hill |