Air Cadets celebrate 75th Anniversary at Devon and Somerset Gliding Club.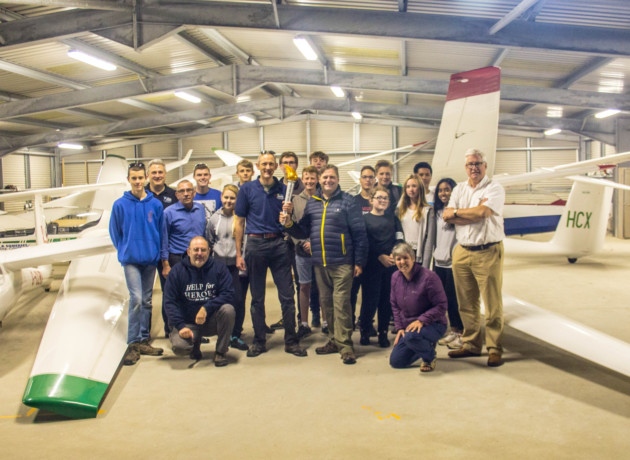 The Air Cadets, celebrating their 75th anniversary with a visit to Devon and Somerset Gliding Club
Air Cadets from Torquay and Taunton were the last group this year to enjoy a fantastic evenings' gliding at Devon and Somerset Gliding Club (DSGC), writes Jill Harmer.

The cadets all got the chance to have a flight in one of the club's gliders and experience the delights of gliding over the mid-Devon countryside during a glorious summer evening. DSGC Instructors were able to give the cadets an induction into how to fly a glider, whilst enjoying the fantastic scenery. The cadets even got the chance to see the Red Arrows display in the distance over the South coast, whilst they were flying overhead North Hill.

This year the Air Cadets are celebrating their 75th anniversary and, to mark the occasion an anniversary torch has been touring the country. The torch paid a visit to North Hill as the cadets were finishing their evenings gliding.

James Flory (an instructor with DSGC and a flying instructor with the Air Cadets) said: "It was a fantastic opportunity to mark the Air Cadets 75th anniversary with a flight over the mid-Devon countryside." He was joined by a number of staff from across the Devon and Somerset Wing of the Air Training Corps who had come to North Hill to help mark the occasion. In total this summer, DSGC have flown more than 50 Air Cadets.

Interested in gliding with us at Devon and Somerset Gliding Club? Find out about trial lessons, purchase and book online by visiting www.dsgc.co.uk